What can Melbourne learn from megacities?
The world currently has 33 megacities, including the likes of Paris, New York, Moscow, and Mexico City. To achieve megacity status, the metro-population must exceed 10 million. A metro-population includes all surrounding areas of a city where people are likely to commute to and from, so it's no surprise there are cities out there with higher populations than some countries.
We can understand why megacities are appealing to so many people. They're everything you want from city life on steroids. They tend to offer more in terms of culture, nightlife, recreation, entertainment and jobs. Generically speaking, they're also the international hubs of the world, which eases the burden of finding work. Plus, the density of the population means greater access to a higher variety of demand, which appeals to those entrepreneurs and dream-chaser types. There's just a lot more going on.
However, megacities face some serious problems when it comes to sustainability. The Capital of Indonesia, Jakarta, has a population of almost 32 million and has just announced it's relocating. This is due to a number of reasons, like decentralising their economy, but one of them is that the city is sinking into the ground. The land cannot keep up with the amount of groundwater being used, and the city is 2.5 meters lower than it was 10 years ago.
But it's not alone, Beijing, and Washington are facing the same problem, and other megacities have their own issues. Bangkok is home to some of the world's worst traffic jams, New York notoriously struggles with public transport, Paris is dirty and expensive, Mexico City is infamous for high crime rates and Moscow boasts long commutes for low salaries.

The most liveable cities are judged on safety, crime rates, the availability and quality of healthcare and education, the culture and environment, and the infrastructure. Essentially everything you'd want to be surrounded by for high quality of life.
Vienna and Melbourne are the two most liveable cities in the world and they have well under 10 million people. Does a higher population make it harder to maintain a solid liveability rating? It would be an easy argument to follow; more people means more chances of criminals, more people to care for, to educate, and to account for with general infrastructure. However, there's one exception to this argument: Japan.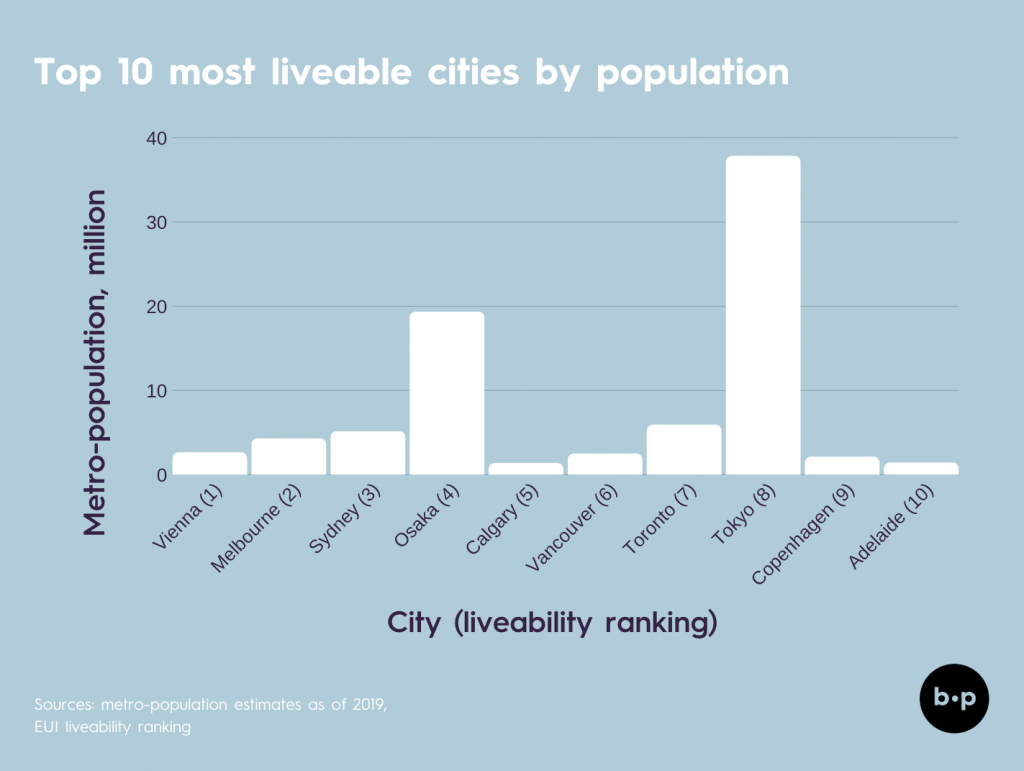 Osaka is number 4 on the World's Most Liveable list with just under 20 million people, but it's Tokyo that stands as the biggest outlier. With the highest population in the world, surpassing second place by around 12 million, Tokyo is home to roughly 38 million people, and it sits at number 8 on the Most Liveable Cities list.
Tokyo has almost 24-hour service when it comes to supermarkets, gyms, and fancy restaurants. While this depletes its work-life balance, it's great for convenience. A higher population means more demand at more hours, making it worth it for places to stay open into the night. As Melbourne's population grows will we need to start extending opening hours?
Japan as a whole is renowned for its incredible train network. The Shinkansen Bullet Trains can reach speeds of 320km/h that have cut a 6 and a half-hour drive into a 2 and a half hour streamlined journey. Tokyo itself is home to a dense network of train, subway and bus lines to the point where driving is almost completely unnecessary. The network is very rarely delayed, it's clean, safe and the cover is so extensive you'd be hard-pressed to find somewhere it can't take you. Melbourne's public transport isn't bad, and there are currently a number of projects both on the go and in the pipeline aimed at increasing its reach and efficiency. While V-Line has a pretty good reach of Victoria, (with the help of Buses), the service is often questionable, and we're still waiting for the mythical train connecting Sydney and Melbourne.
Evidently, public transport isn't the only factor that comes into play when claiming the Worlds Most Liveable City title, but the infrastructure can be hard to maintain and keep up with. As Melbourne grows we need to start planning how we will combat the struggles other megacities are facing and appropriate infrastructure is an enormous issue.
Melbourne is the fastest growing city in Australia and while there always seems to be new development projects in the pipeline, are they the right projects?
See how Melbourne City Council, the Victorian State Government, and other stakeholders have been planning for the future growth in this list of the most exciting future developments in Melbourne.
Words by Emily Hatty for blueprint