Shri Ram Centre, New Delhi, India
Location: Todermal Road Area, Mandi House, New Delhi, India
Year built: 1958
Architect: Shivnath Prasad
The Shri Ram Centre in New Delhi, India features a unique architectural approach. Designed by Shiv Nath Prasad in collaboration with Ebrahim Alkazi, its base is cylindrical, with a horizontal rectangular structure built on top. The rectangle overhangs the cylindrical structure beneath it and is supported by four cross-shaped columns. Stylistically, it is an example of Le Corbusier's influence on modern architecture in India.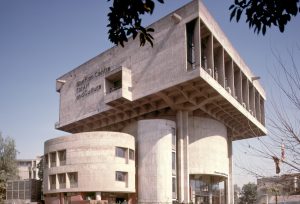 The cylindrical section houses the ground floor and first floor, where the auditorium is located. The centre is run by the Indian National Theatre Trust and aims to promote art and culture from India and around the world. In addition to the main structure, two cylindrical structures to the left of the main building house offices and a canteen.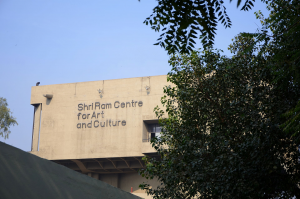 The surrounding area of Mandi House was once the site of the Raja of Mandis' palace. Today, as well as the Shri Ram Centre, the area is also home to the headquarters of national broadcaster Doordarshan. The area also contains the Agrasen ki Baoli, a significant ancient Indian monument.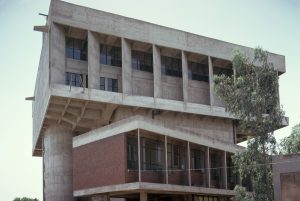 Notable alumni who passed through the centre's acting course before achieving fame and fortune include; Mukesh Chhabra, Rajkumar Rao, and Jatin Sarna, all of whom have gone on to have successful careers acting in films.
Learn more about Le Corbusier.
Image courtesy Peter Serenyi